The first major snowstorm of the 2007-08 winter
season has put down over 6" of snow in most of
the NYC, NJ area before turning to sleet. The
storm was due to warm air advection climbing
over a dome of cold arctic air over the northeast.
WINTER TORNADO SWARM KILLED 55 PEOPLE IN 5 STATES in 2 DAYS
Baby found alive in field near parent's
house, midwest reels from 08' diaster
HURRICANE KATRINA AFTERMATH UPDATE:
Thousands of people may have died in the great gulf hurricane Katrina
with winds clocked up to 200mph upon landfall in Louisiana and
over 100 mph from New Orleans to Biloxi Mississippi. The storm
surge of 20 feet inudated the towns and levees broke, in a diaster
unparralled in modern times.
The storm ranks in the magnitude of the Labor Day Hurricane
of 1935, Hurricane Andrew, Camille and the Galeveston Hurricane
of 1900 which killed over 9000 people in a storm surge.
The hurricane intensified in the warm 89 degeree gulf waters
and ravaged the coastal towns with hurricane conditions 250
miles in a radius all the way into Tennessee. The diaster unfolded
with deep flood waters in all the coastal towns along the
Louisiana coast, New Orleans and up thru Biloxi and Gulfport
Mississippi.
Electricity is out to thousands if not millions of people and there
is vast structural damage to buildings, boats smashed and pushed
ashore.
The plight of millions of people rests in red cross relief efforts and
and government help; the relief effort could take years -- "one of
our worst natual diasters" as President Bush stated yesterday. Oil
prices increased dramatically with prices jumping in response
to oil rigs afloat and closed.
FEB 2005 SNOW 15" NYC,
AND 18" NEWARK AS THIRD
CONSECUTIVE STORM
DROPPED 7"-10" ON AREA
WINTER 2004-2005 SNOWFALL FOR NYC UP TO 37"

3 MORE INCHES AND 40" REACHED, MAKING FOR 3 CONSECUTIVE WINTERS ABOVE 40" IN 50 YEARS
President's Day featured a significant snowstorm, although

much lighter in magnitude than previous storms on that

holiday. NYC had 5" of snow, with as much as 7" in suburbs.

The week was cold with another snowstorm from the

south late in the week dropping 6" of snow at NYC. This

raised the snow total to 11" for NYC, for the week, and

29.3" for the season (above normal).
EPIC STORM OF 05'
TRUE BLIZZARD HITS AREA
13" NYC, 12"-18" NJ, 24" LI, CT, and 3 FEET Mass., winds
clocked at 40-60mph with
extensive drifting and blowing
and temps in teens...
storm winds up off coast after
clipper injects new coastal
storm with hand-off energy;
NJ under state of emergency
as drifts exceed 4 feet...
BLIZZARD SHAPES FOR NORTHEAST
THIS WEEKEND AS STORM TRAVELS
EAST ALONG ARCTIC BOUNDRY
The weather this weekend will be very interesting in the
midwest and northeast.
An arctic boundry is providing the pathway for a storm
to develop and ride eastward and then the storm will
explosively deepen off the Mid-atlantic coast
and tranform itself into a powerful storm the likes
of 1996 and 2003.
Heavy snow will develop and many places from DC to
Boston could see a foot of wind whipped snow.
Computer models are in agreement including the GFS
and the UKMET and they show a great storm with
over 1" of liquid being dumped into the arctic air.
Stay tuned for developments
The weather is changing to a much colder pattern in
the east with several chances for snow including
this Sunday evening when up to 2" is likely.
The weather will be cold all week with opportunities
for snow and bitter cold all week.
The pattern of warnth dimished quickly.
HURRICANE IVAN SLAMS
ALABAMA, LIGHTS OUT,
BUILDINGS DAMAGED,
DOZEN PEOPLE KILLED
The hurricane Ivan once a mighty category 5 has
dimished its winds to 80mph as it releases
torrents of rain and tornadoes in its wake
across the Gulf States from Louisiana to
Northern Florida, with 12 people dead.
The damage was not as bad in the Mobile
Alabama area as the storm veered to the east
sparing the city a great storm surge.
Fair weather is clinging to the northeast with
warm 80s and fair skies as high pressure dominants.
TORNADO TOUCHDOWN IN
BURLINGTON COUNTY; 7" RAIN
PARTS OF STATE, 2"+ NYC...

The cold front that stalled over the northeast Friday

and dug into the tropical air triggered excessively

heavy rain across the region, with some places in

Northern NJ receiving over 7" of rain, with rivers

overflowing near Lodi and Saddle Brook. NYC received

2.32" and that pushed the monthly record to over 6".

Rainfall is expected to continue this weekend also.
Burlington County received 12" rain
and it caused major flooding; dams
busted sweeping cars away..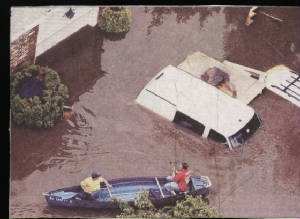 Spring Weather Review:
Severe Weather Update: Last weekend there were 175 twisters

in the midwest with the town of Marengo, Indiana getting hit the

hardest possibly by an F3 tornado. There may have been 7 tornadoes

in the Indiana area, and some in Kentucky. There were 9 deaths

reported in the midwest. Today there are watches and warnings

for severe weather in the southeast states and Gulf coast.
Carribean Islands hit hard by floods;
2000 die in Dominican Republic
and Hispaniola; Earthquake also
jars the islands; mudslides occur;
Diaster relief on the agenda...
TORNADOES HIT NEBRASKA
AND IOWA HARD; SOME IN
MICHIGAN AS SEVERE WEATHER MOVES EASTWARD

The weather in the middle of the United states has been violent

this weekend and some towns in Nebraska and Iowa buckled

under the onslaught of strong tornadoes which smashed houses

and overturned cars and trucks but not killing any people.
Northeast Storm Impact Scale-

there has been a lot of criticism about the new impact scale

developed by Paul Kocin, the "winter weather expert" on the

weather channel. I feel that it does not correctly measure the

power or intensity of the storm and paints a false picture

based on population and geography. How else would a storm

like the Great Blizzard of 1888 rate a "4" and not a "5". The

March Superstorm of 1993 and the Blizzard of January 1996

rate 5 because they covered a greater area, but the 1993 storm

was not as bad at the coast and 1996 was technically not even

a blizzard.